Lesson content
Jiu Jitsu
Practice Brazilian Jiu-jitsu. Learn basic skills. ※Jiu Jitsu Gi is required.
No-Gi
Practice Nogi Jiu-jitsu. Jiu-jitsu Gi is not required.
Jiu Jitsu Advanced Level
Learn advanced techniques of jiu jitsu. Recommended for advanced users. *Jiu Jitsu Gi is required.
Kickboxing
Kickboxing practice. Interpersonal practice focusing on punches and kicks.
Sambo
Learn the technology of Sambo, a Russian martial art.
MMA
Practice mixed martial arts. Recommended for advanced users. Practice is hard.
Kids jiu jitsu
This is a jiu jitsu lesson practiced by children. Kindergarten to elementary school students are eligible.
Free Roll
Practice freely in a form close to the actual game. Rolling freely with teammates is a lot of fun.
Acess
21-2 Kuzeohtsuki-cho minami-ku Kyoto City,Kyoto
16 minutes work from Katsuragawa Station on the JR Line.
Training Schedule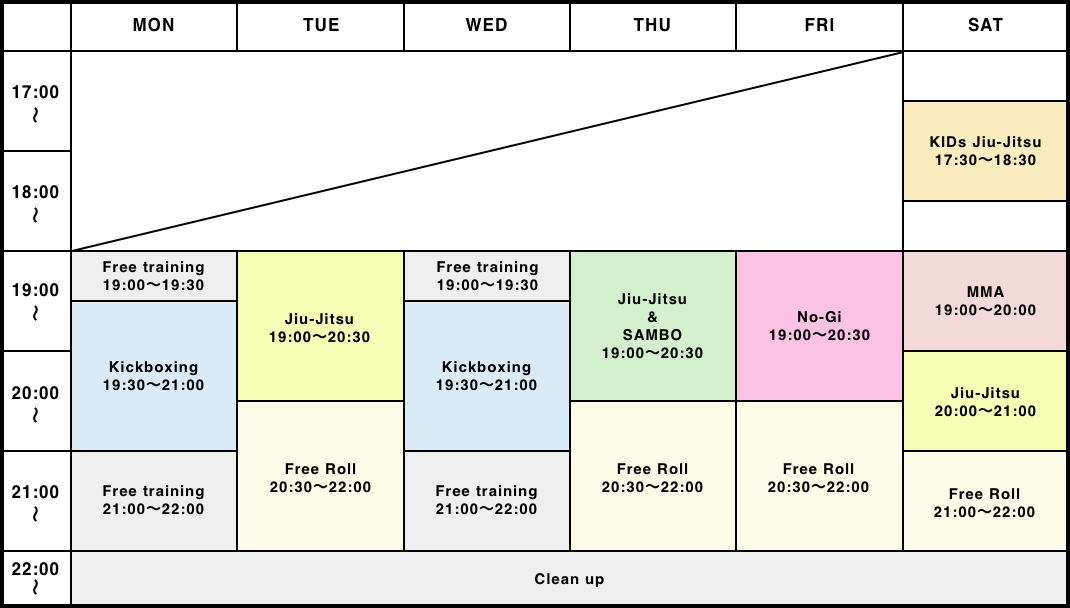 * Closed Sunday, and all national holidays.
Training Fees
Admission Fee
10,000 Yen
Monthly Fee
All time member
9,500 Yen
2time/1week member
6,500 Yen
Female member
5,500 Yen
University student
7,500 Yen
High school and junior high school students
6,500 Yen
Sports Insurance Fee
1,900 Yen (Paid Annually in April)
For visitors
You can participate in all classes for 2,000 yen a day.
Contact
Takeshi Morimoto
E-Mail: groundcore.daihyo@gmail.com
PHONE: +81-90-9056-4707
*While this page is written in English the teachers here are Japanese and teach in Japanese.
They will however do their very best to make sure that you understand the techniques.